The road to Wildflower leads through The Door!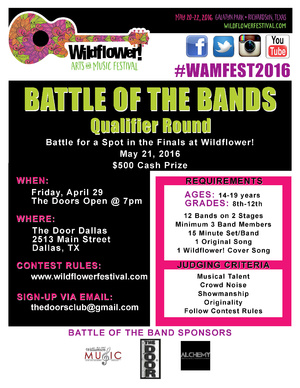 Well, actually The Prophet Bar  2513 MAIN ST", DALLAS TX 75226
The Problem are very excited to be playing for a shot at a Richardson Wildflower Festival (#WAMFEST2016) battle of the bands finalist spot.  And we need you!  Lots of great local talent will be vying for one of three finalist spots.  While the judges can choose whomever they like the most, it would not hurt at all to have a bunch of people screaming us up during and after our set.  We would truly appreciate the support.  And you'll get a great show from us and from a ton of other bands including Architect Zero, Paper Saints, Great States, Signals and Alibis and more…
It's an interesting contest – we all have to play at least one original and one cover of one of the Wildflower headlining artists.  We think you will really like our choice there, and our interpretation of the song we are covering. 🙂
Doors open at 7:00.  We are on at 7:50.  The Prophet Bar  2513 MAIN ST", DALLAS TX 75226
This is an all ages show.  Cost is just $10 and you will get to see tons of local talent vying for those three coveted finalist spots.  The three winners will get to perform at Richardson Wildflower Festival for cash and prizes!